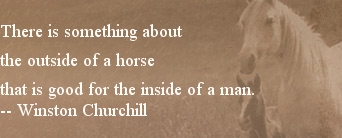 Gaited Trail Horses and Training

Clear Creek Stables specializes in training gaited horses for trail riding.  Hidden away in a scenic valley in Rockcastle County, KY, we have access to some of the finest trails in the area.  Young horses are started humanely with natural horsemanship techniques, and are soon crossing obstacles and learning to deal with spooky things which might be encountered on the trail.  

Owner/operator Melanie Abbott has been training horses for many years, and has extensive experience working with young horses and owners who are having difficulties with their horses.  Ladies, are you wanting to get back to your childhood dream of horseback riding after raising your own children, but having problems with your horse or your confidence?  We can help! Many times a few tips and some encouraging words are all that are needed, and you can find both at Clear Creek Stables.We sometimes have quality gaited trail horses for sale, or know of trustworthy folks who do.  For more information about our services or horses, please contact us at:                     Clear Creek Stables

                             6679 Wildie Rd.

                             Mt. Vernon, KY 40456     

                             606-256-8811